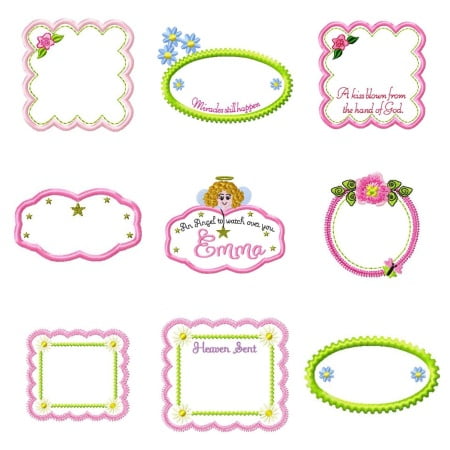 This set consists of 10 girly applique blanket labels.
Stitch them with the wording or leave off the wording and insert your own. Names not part of design set. 5 labels are for the 5×7 hoops; 5 for the 4×4. The 4×4 labels have no writing with them so you can insert words or initials of your own choosing. Great for baby blankets, pillows, diaper bags, and as the center of baby quilts. Use a larger design on the crib blanket, and the smaller coordinating design on the receiving blanket.
Please note, the floral label is the only one that does not lend itself to being lined.
Label Dimensions and Stitch Counts:
1. A Kiss Blown 5x7Design Dimensions: 4.56×4.6″
Stitch Count: 7,747
2. Kiss Blown 4x4Design
Dimensions: 3.70×3.74″
Stitch Count: 4,692
3. Heaven Sent 5x7Design
Dimensions: 5.42×4.84″
Stich Count: 11,431
4. Heaven Sent 4x4Design Dimensions: 3.89×3.48″
Stitch Count: 6,941
5. An Angel To Watch 5x7Design Dimensions: 5.10×4.13″
Stitch Count: 10,265
6. An Angel to Watch 4x4Design Dimensions: 3.60×2.07″
Stitch Count: 2,676
7. Floral LabelDesign
Dimensions: 3.80×4.28″
Stitch Count: 7,567
8. Floral Label 4x4Design
Dimensions: 3.13×3.49″
Stitch Count: 5,518
9. Miracles Still Happen 5x7Design Dimensions: 5.75×4.09″
Stitch Count: 6,683
10. Miracles 4x4Design
Dimensions: 3.82×2.20″
Stitch Count: 2,957
Artists:
Available Formats - All designs come in the following embroidery formats: dst, exp, hus, jef, pes, shv, vip, vp3, xxx.
Designs will be downloaded in one zip file. If for some reason your desired format is not found, please contact us.