As I was cutting my grass this morning, I noticed how the sunlight highlighted a little hidden corner in my garden.
I thought it was so precious and wanted to share it with you.
---
Have you been wondering what I do when I am not digitizing or watching grandchildren?  Well, another favorite pas ttime of mine is flower gardening.  Although I must admit that with advancing age, it seems to become more difficult to manage all those plants and – WEEDS!!  I am finding that Preen has been a great help in the weed department, but there are still quite a few areas that have not been willing to submit to weed control! :)  With the unusual amount of rain fall this year, it seems that both flowers and weeds have benefited!!  I also tried my hand at some great side planters/containers from https://www.kinsmangarden.com/index.php and I am so very pleased with them.  Usually, I have found that these cocomat/moss planters dry out so fast.  But the ones from Kinsman's have just been wonderful.  I water about every other day, sometimes can even wait til three days are up.  And they have just been a joy to watch grow.  Saarah (one of my granddaughters) and I planted those together and she, too, enjoys looking at how well her pots and plants are doing.  I highly recommend these.
Well, I thought I would share some photos and hope you enjoy a stroll through my garden.  It is in my garden where I do a lot of praying and praising God for His many blessings and where I find new inspiration for my designs.
My husband found this garden saying by an unknown author:
When the world wearies,
And the world ceases to satisfy,
There is always
THE GARDEN
Thanks for visiting my blog today.
God bless.  Monika
---
I had intended to write this entry around Mother's Day but then life happened and got in the way of my good intentions.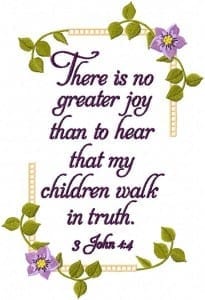 As I am working on a design with the scripture "There is no greater joy than to hear that your children walk in the truth" (3 John1:4) my heart is filled with thankfulness that this is true of my two children today.   It wasn't always that way.   There were years of deep pain and sorrow over the path our daughter had chosen.  But those days, thank God, are in the past and it is with great thankfulness today that I would like to share with you Kristy's story in her own words.
I am posting this story as an encouragement to those who might have children who have chosen a path that seems self-destructive.  I want to encourage you to give that child to the Lord;  He does care and He does hear your prayers.
May Kristy's story be an encouragement to you.
Kristy Brock testimony from Jeffrey D. Brock on Vimeo.
---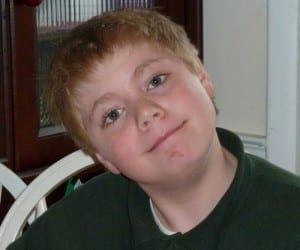 I look at my autistic grandson – he is so ruggedly handsome – his hair tossled, a piece of flowery silk fabric wrapped around his neck, his beautiful big blue eyes with long eye lashes looking sad and semi pleading.   On the one hand he hates parties,  big gatherings of people, loud places;  on the other hand, he longs to have connection with others, feel loved and appreciated – yet he doesn't know how  to relate to others, how to enter into their world.  It brings tears and pain not only to him but to those who do love him – his family.    He asks often "Why did God make me like this?"  And I don't know the answer.   Awkward as he appears socially, he has a heart of gold.  When his grandfather suddenly had to be taken to the hospital with a very rapid heart beat, it was Sid who went to his room to pray for Grandpa, it was Sid who lovingly offered to help Grandpa the next day.  He is full of extremes:  so beautiful, yet so uncaring about his appearance;  so verbal, yet so unable to establish rapport with others;  so intelligent, yet so unpolished in his behaviors.  He is loved deeply by his family and I pray that some day God will show him a very special place in life  where he can shine and rejoice in the fellowship he can have with others and God.
A customer recently sent me a slide show about an Autism Cruise that he organizes.  He sent it to me because the video shows the use of one of our Autism designs.  But I want to show it to you because I think it is very well done and depicts the great joy that so many of these children and adults seemed to have experienced on this cruise.  Thank you, Alan Fowler, for giving me permission to place this on my blog and for organizing joy and happiness for individuals with autism.
---
Just quickly wanted to share with you something I have been working on:  A set of labels for twins.  These are sooo cute.  There are 10 designs in this set and I made them with burp pads, bibs, and blankets in mind.  What do you think?  I have also made a tutorial on how to make burp pads out of little guest towels.  These are fun to make and really come together quickly, especially if you use my designs.  You knew I was going to say that, didn't you?!!  :)  I am  posting the tutorial right here on this blog.  Okay, here it is: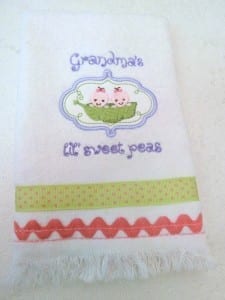 These burp pads are so fun and quick to make.
You use a small guest towel (I used a 6 pack from WalMart), apply a colored fabric backing, place your favorite burp design on it and add trim to your liking.  The terry cloth from the towel absorbs spills and burps very nicely and is soft to baby's skin.  The fringes at the top and bottom add a playful touch to the burp pad.
You Need:
1 guest towel   (mine was 10.5"x16.0" – if yours is a different size, be sure to adjust the backing
fabric size.)
1 piece of fabric     12×16"  (for backing)
Trims, if desired
Instructions:
1.    Take your towel, mark the center, and place your choice of baby design on one side of the towel, about
4-5" up from the bottom edge (depending on how much trim you want to add under the design).
2.    After you placed your design, add trim of your choice  under design.
3.     Take your backing fabric, press a top and bottom edge seam of ¾".
4.    Place the right side of the backing over the right side of  the towel, and sew ¼" seam along the long edge.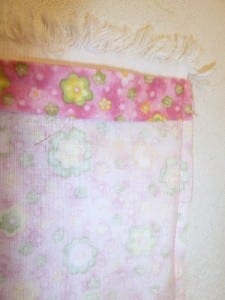 5.    When you have sewn one side, do the same to the other.  You will notice that the backing appears wider
than the towel.  That's what we want.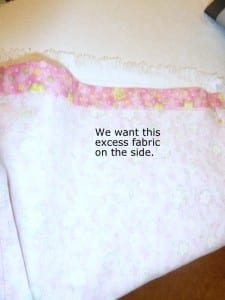 6.    Turn everything inside out.
7.    Even out the backing fabric so that you will have an equal amount of fabric "overhang" on both sides of the
burp pad, creating a little decorative edge.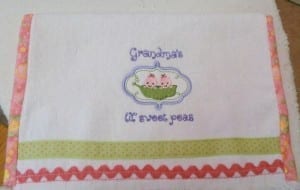 8.    Stitch in the ditch along the burp pad long edges.
9.    Stitch the backing to the burp pad front by topstitching along the top and bottom edges, close to the start of   the    fringe.  You could also just use Steam a Seam 2 and iron the backing in place.
Iron it – and there you are.  Isn't this cute?  And so very functional.
---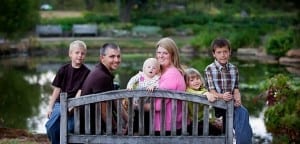 I haven't written in a while – life gets so busy, doesn't it?   Today I want to share with you about a very special family.  Krista and Josh Carson have 4 children of their own, one of which was born with Down Syndrome.  The Carsons have felt lead by the Lord to adopt another child with Down syndrome and they need help financially to bring this baby (to be born in June) home to them.  To help out the Carsons I am going to make  available a Down Syndrome butterfly for sale.  All proceeds from this sale will go towards the Carsons' expenses for baby Elana.
Would you like to find out more about Krista and Josh and their 4 precious children?  Please visit their blog:
www.mygoddoesntmakemistakes.blogspot.com
Thanks for reading this and letting me share.
God bless.
---
When I grew up in Germany, the 4 weeks before Christmas, Advent were  special.  For those 4 weeks we gathered on Sundays to work on Christmas projects, listen to Christmas music, eat Christmas cookies, and hear my Dad read Christmas stories to us.  There was something magical about that time.  I have from time to time tried to renew this tradition here in Ohio but haven't been too successful.  This year, I thought of having the grandkids over and that maybe we could  make some Santa Clauses German style on St. Nicholas day.  See, in Germany, in the old days, St. Nicholas and Christmas were not identical.  St. Nick's day was December 6th (I suppose it still is) and we had a yeast bread, made in the shape of St. Nick.  St. Nick would also come around on December 6th with a big sack on his back full of toys for "good" kids.  He was usually accompanied by St. Ruprecht.  St. Ruprecht had an empty sack for "bad" kids.   Boy, did we all try to be good and recite our poems for St. Nick so we wouldn't end up in Ruprecht's sack!!

I decided that maybe I could do a little teaching about St. Nick  and bake a German style yeast bread.  It was fun – though there were moments of tension.  See, while the kids were waiting for the Nicholas' to cool off so they could put icing on them, Grandma thought she needed to try one.  Problem is, Grandma got confused and ate Eliana's Santa Claus.  Oh, the horror when I realized what I had done.  Now you need to know Eliana is one our little Aspies and meltdowns are frequent.  I just wanted to go and hide.  How could I have eaten HER St. Nick???!!!  Oh, Grandma spent many remorseful moments before 'fessing up.  And Eliana was so gracious.  She was just fine with taking Grandma's Santa Claus instead.  And Grandma sighed a deep sigh of relief! LOL.
The other moment of tension came when the children somehow thought they had made "cookies" not bread.  You know bread is just not the same as a chocolate chip cookie!!
Other than that, it was a fun filled evening and I am posting some photos of it.
Thanks for letting me share.
---
I wanted to let you know that I recently purchased a sweet security blanket from http://www.elegantbaby.com and it is the sweetest softest blankie you will ever touch.  I am truly impressed.  I bought it to coordinate it as a present with our new little lamb blanket label.   So precious.  It looks like Elegantbaby also has some other unique baby gift giving ideas that you might want to check out.  The font used is our Classic Bold 3/4″.  Because it's a little thicker, it always stitches out well on blankets.
Hope this info will help somebody.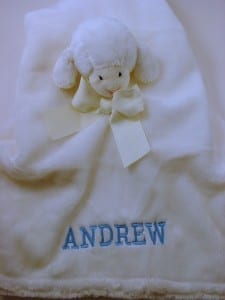 ---
Have you ever wondered what to do with all of those perfectly stitched out samples?  I found a blog that uses handembroidery frames to display simple applique designs.  Think how great this would look if we used some of Oma's Place's Fall or Christmas designs.  Check out this blog here:
http://thespeckleddog.blogspot.com/2010/09/my-new-obsession.html
---
We are back to homeschooling.  This time, though, Kristy and I share the teaching.  Kristy does Mon, Wed, and Fridays.  I do Tues and Thursdays.
Here is a picture that shows one of the advantages of homeschooling:  Saarah surrounded by her beloved stuffed toys.  She is a joy to teach.  Like a sponge that wants to absorb all there is to learn.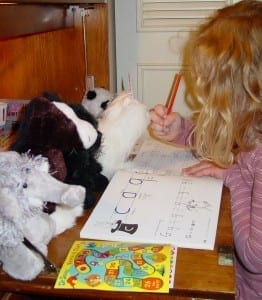 ---
If you have read through my past entries, you know that one of our grandsons has Asperger's, a form of autism.  It's been a couple of rough months with him.  Maybe it has something to do with his rapid growth, maybe his being off during the summer months has lead to boredom, maybe….  It's been especially difficult for his parents.  His Mom, our daughter Kristy, wrote the following on her blog lately:
"I have been having a difficult few months with my son, and it all came to a head yesterday, when truths about my son's behavior were brought to my attention. It was one of those earth shattering moments, where your perception of reality is turned upside down and you have to face a new, more unpleasant one.. Well, I went for a run, to work on my anger and frustration, and ended up sitting in a field at the end of the street where I had this conversation with God…
Lord- Why????
Because I love my son!
Because it hurts!
It's not fair!!
Lord.. why does my son suffer for the bad choices I made??
Will it ever get better??
---
It seems I have been working on Effie's wallhaging for a loooooooong time and it feels so good to have it hanging in his room.  He rewarded me with a hug and his beautiful smile.  Makes it worth it all.  For sure I could have done more with this wallhanging in terms of actually quilting it, but I just don't have the patience nor the time to do that right now.  I think he will still get enjoyment out of it the way it is.
Now to "iron out" some minor things in the files and then they should go up for sale, hopefully, within a week or so.  So, be on the lookout.    The designs should be available for sale soon.  I hope you will like them as much as I do.
On to sewing a dress for Rileigh for school start and digitizing more fall designs.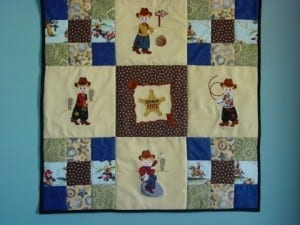 ---
If you have been following my progress on Effie's wallhanging, you may have been wondering what happened to me.  I have been working on it, but progress has been slow.  I finally finished digitizing all of the cowboys and then redid the color scheme of the wallhanging and I have to say I like it a lot.  Those cowboys are stitch intensive – not high stitch count, just require quite a bit of color changes, but it's well worth it, don't you think?  I just love this smiley little fellow.  This is exclusive art from www.sugarbeargraphics and I think Denise Pederson did a great job on it.  I absolutely love her art.  Our little grandson, Effie, has that same kind of happy smile.
I am posting more photos of the work in progress.  I hope to be adding a label today and hopefully finish the quilt within a day or two.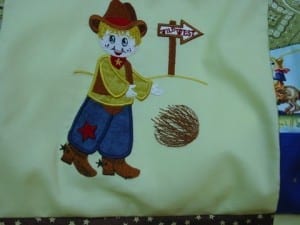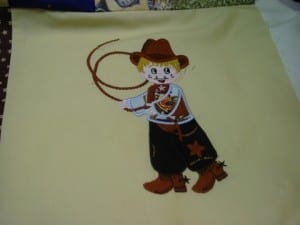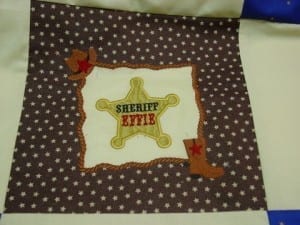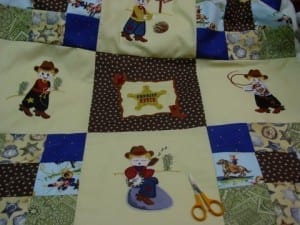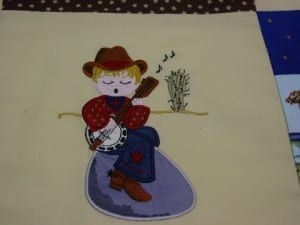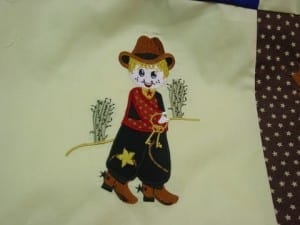 ---
We have just added a new set to help the cause of Down's Syndrome children.
---
My husband and I like to go to antique malls and off the beaten path antique shops and I in particular enjoy looking (and buying) old, old magazines that contain sewing or embroidery patterns.  I have some that date back to the 1850′s and it's a lot of fun looking at what the fashions were way back when and also to find embroidery patterns.  I also get a kick out of  old advertisements.  The problems they are addressing don't seem to change much from generation to generation – too fat, too little hair, acne, too little money – but the solutions certainly have.
And then there are some advice columns and a "grains of  gold" column.
Here is a small sampling of "Grains of gold":  Little things postponed can bring great miseries.  (still true today, isn't it?)
Or how about:  A good mother is worth a hundred schoolmasters.
And finally:  However ill the world may have gone, the roses still bloom and the thrushes still sing in it.
Talk to you later.
---