You might know that we have two autistic grandchildren.  Our grandson, Sid (almost 14) and granddaughter, Eliana (almost 9).
Eliana stayed with us yesterday afternoon and night.  It's always a special time with her.  Last night was no exception.
She saw a new in the hoop birth sampler I had made.  I used her name because we just don't have babies in our family right now.  She saw the pillow and fell in love with it.  I referred to it as a "baby" pillow and  she said "Hmmm…. excuse me!  It says "Eliana Grace" on the pillow.  How could it be a "baby" pillow???  And then I looked at the words and thought, well, she is absolutely right, it could be used for her and girls her age as well.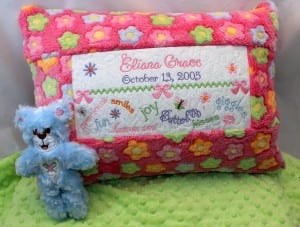 I had intended to pose the pillow with one of our larger bears, but that bear went off to school with Eliana.
After I said good night prayers with Eliana last night, I suddenly heard her talk in my sewing room – which is NOT where she sleeps.  :)  I found her tucking all my little teddy bears into a small baby doll bed and covering them up with a soft blankie, because "they might get cold at night".  Oh, and of course, we had to make sure the night light was left on because she didn't want the bears to wake up and be afraid and not know where they were.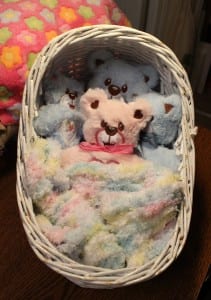 And, lest you think those little bears were in that doll bed without a mattress, oh, no!!  She had torn up several paper tissues and placed them on the bottom so they would sleep on something soft.  She absolutely loves the softness of these little teddy bears.   She took care of those little bears with so much thought and care.  And it reminded me of the love that the Lord has for His children.  In this worrysome world, I tend to forget that God IS in control and that He tenderly watches over us, even in the darkest of times.  He IS that reassuring nightlight in today's darkness.
May your day be blessed and thank you for taking the time to read this little story and stopping by to visit us at Oma's Place.
---
I am truly surprised that it has taken me this long to get back to blogging.  Life sometimes puts a tenacious hold on one's plans and dreams, doesn't it?  There are designs to be digitized, tested, written up and posted;  there are family members who deserve to have special time devoted to them;  health issues to attend to;  and somehow blogging just did not make it to the top of my "to-do-list".
Today I would like to share with you about a faith related issue.  Do you ever feel that life gets so busy that you don't find time for other people – outside of your immediate family circle?  This has been really weighing on me lately.  There is a basic desire there to help, but how does one reach above one's everyday circumstances to assist those who are lonely and in need of friendship?
Our Pastor's wife recently published a devotional book that I have found so very eye opening and helpful.  Her writing style is straight forward and goes to the heart.  She shares examples from her own life and the Lord has been really talking to me through her writings.  The name of the small book is:  Abigail's Story – by Sarah Young.  It was published by CrossBooks in June of this year.  Sarah discusses the qualities of Abigail, as documented in the Bible in 1 Samuel 25.  I got my copy from Amazon.com.    It's really helping me to work through some personal issues and has given me insight into my need to be available to others beyond my own home.  Actually, as I am beginning to reach beyond my own familiar circle of loved ones, I am finding that I am blessed with a renewed sense of God's peace.
I can only recommend Sarah's book.
This summer so far has been unusually beautiful and cool for Ohio.  Since I don't tolerate heat very well, I have just loved taking care of my garden.  But I have also been very busy with a new set for babies.  I think you will love it.  It comes complete with a small mini tote (done in the hoop!!) that will just be perfect for those times when you need to drop off baby with Grandma for a short while or for a visit to the church's baby nursery.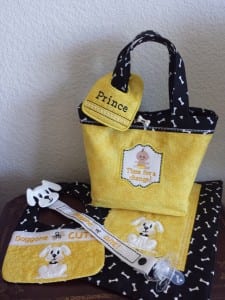 Marcia Hutchings tested the little tote for me.  Isn't it cute??  I just know you will love making these items.  I am hoping to release the set sometime in the middle of August 2014.
---
I  have been busy for a few days with making receiving blankets.  Our church has a special tradition on Mother's Day:  new babies are dedicated to the Lord and prayed over by our Pastor and the church on Mother's Day.  As a symbol of God's all encompassing love, the babies are gifted with a receiving blanket that has an applique foot with the church's name on it.  It also has attached to it a little tag that says "Wrapped from head to toe in God's love;  Covered with the prayers of His people."
Here is a photo of what the final blanket looks like:
Since there were a lot of baby boys born this past year, we had 10 blankets to make.  I am saying "we" because even hubby got into the action.  He serged some of the blanket hems for me while I did the embroidering.  First time serging or doing any kind of sewing for him.  He did great!! 

The applique foot design is available for purchase on our site, together with all sorts of other little and bigger feet!

http://www.omasplace.com/ed/baby-feet/
It stitches up quickly.  Instead of the church's name, you, of course, would place a child's name.
When I make these receiving blankets, I  make the length the same as the full width of the fabric, so you end up with a receiving blanket about 40×40″ – which is much bigger than the ones you usually purchase in a six pack at K-Mart or Wal-Mart.  I cut off the selvage and then serge the edges.  I fold over the serged edges 1/2″, press, and then topstitch the serged hems with a wide zigzag stitch.  Then I place the applique foot design in one corner (center of design 6″ up from corner).  These make nice gifts for baby showers, too.
Happy Stitching!
---
As I was in my garden today trying to get rid of Quack grass and invasive Goldenrod, I noticed our granddaughter, Eliana, kneeling next to some tulips.  She cupped the beautiful flower petals in her hands and could not get over the size and brilliance of the flower.  To my shame I must admit that I had just walked by these tulips  – hadn't even noticed them in all my worry about trying to rid the garden of weeds.  I looked at her and then the flower and marvelled at the beauty in my granddaughter and the flower.  God IS the author of such incredible beauty, if I only take the time to notice.  There are always weeds in our lives, aren't there?  Things that distract us and make us feel overwhelmed at times.  I hope I will take more time this Spring and Summer to notice the God created beauty around me.
---
Many months ago a dear friend from "Down Under" suggested I make a tote to carry a mug in.  I have been thinking about it a lot and finally decided to see if I couldn't do it by sort of "challenging" the 6×10 hoop.  I am so pleased that I have been able to do it.  This is just the cutest little tote – fully lined (not a raw seam in sight) and it's padded to make sure the mug/cup won't get broken.  It's quite roomy, too.  It easily holds a mug, a treat, a mug rug or two, napkins, and the back pocket can hold our new tea pocket.  This so much fun to make.  Wouldn't these be great for Mom for Mother's Day?  But we have been thinking of lots of other uses, too.  Change the wording on it to "get well soon", or best wishes and then fill the little tote with favorite items and gift it.   Have you started on a small needle craft like a small cross stitch pattern?  Why not keep it in this little tote and take it with you while you wait in the doctor's office.  Depending on your choice of fabrics, you can also make this a little carrying tote for the Littlest Pet Shop "creatures", or how about crayons and some smaller coloring books.  I bet you could come up with some of your own uses for it.  The handle is very sturdy and the little tote stands up quite nicely, without support.
Are you ready for some stitching fun?  Check it out in our store.  I think you will like making this project.  Testers and I had a fun time stitching this.  I hope you will give a try.
Oh, let you in on a secret….  there is a coffee tote coming, too. 

---
Well, look what we found in our garden this morning…. underneath our turned over wheelbarrow.  I suppose we won't be using our wheelbarrow for a while!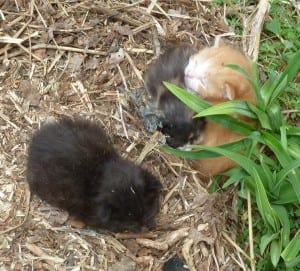 ---
Tomorrow is Good Friday.  It indeed  is a "Good" Friday for all those who believe in Jesus as their Lord and Savior.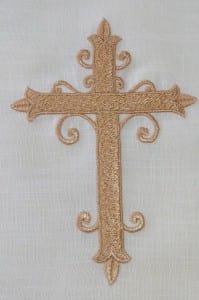 The graphics for this cross were purchased from www.mygrafico.com (Cupcake Cutiees).  While it is a reminder of Christ's sacrifice for us, the original cross was far from being this pretty.
700 years before Christ's coming, the prophet Isaiah predicted the Lord's death for our transgressions.  Youcan read about it in Isaiah 53.
"53:5 But he was wounded for our transgressions,  he was bruised for our iniquities;
upon him was the chastisement that made us whole, and with his stripes we are healed.
53:6 All we like sheep have gone astray;  we have turned every one to his own way;
and the LORD has laid on him the iniquity of us all.
53:7 He was oppressed, and he was afflicted, yet he opened not his mouth;
like a lamb that is led to the slaughter, and like a sheep that before its shearers is dumb,
so he opened not his mouth."
I will be forever grateful.
---
There appears to be a connection between gluten intolerance and autism.  Eliana, one of our autistic grandchildren, has Celiac's disease and cannot tolerate gluten, not even traces of it.  She misses "regular" foods terribly and when she is with me we always try to do a little glutenfree baking.  I, too, have a gluten intolerance – get terrific headaches from it – and feel so much better when I eat glutenfree.  We decided to try a banana bread recipe from Food Network, substituting the regular wheat flower in it with Better Batter's all purpose baking mix.  I have had great success with it as a substitute in other recipes as well.
If you want to give it a try, you can find it here:  http://shop.betterbatter.org/collections/better-batter
Eliana is extremely bright, so baking with her turns into a scientific experiment.  I had just purchased a new set of measuring spoons – each size had two sides – one rounded, one oval.

She was sure that the rounded side was larger than the oval.  So she first filled one, then the other side with water and… what do you know … they are both the same!!

Here are the banana bread muffins – ready to go in the oven.  Don't they look good?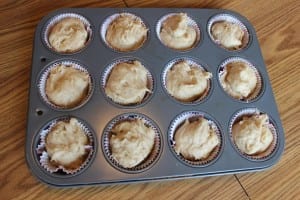 Eliana thinks so, too, and she is eyeing the dough with great interest.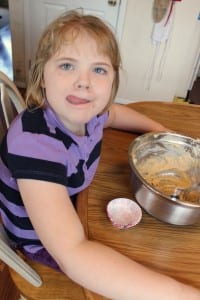 And here are the muffins all done: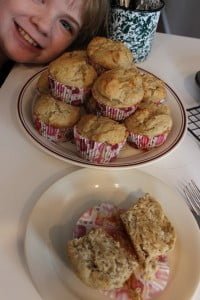 These are nice and moist and taste great.  They freeze very well, too.  You can find the recipe here:
http://www.foodnetwork.com/recipes/banana-bread-recipe.html
Enjoy!
---
It's Spring break at Eliana's school for autistic children  and she has been with me during the day.  We have had fun.  Yesterday she wanted to learn how to sew a little dress for her American girl doll.  I still wanted to get my daily 2 mile walk in and suggested that she look at links to AG doll free sewing patterns on Pinterest while I would do my quick walk.  (Grandpa was home watching her, don't worry!! :)  )   Did you know just HOW many free AG doll patterns are available online????  Oh, my goodness.  There must be a LOT of girls with AG dolls and an even greater number of Moms and Grandmas eager to sew for them.
Here are just a couple of  links, in case you are interested:
http://www.pinterest.com/forever18inches/free-18-doll-patterns/
http://www.pinterest.com/shamrocknanna/american-girl-doll-patterns-access-free-tut/
Well, back to my story about Eliana.  So, I sat her in front of the computer (she is extremely computer savvy), put in the first link and told her that once she had chosen the pattern, she could start selecting fabrics.  What was I thinking???  When I came back 30 min later, there she was in a total state of panic.  Too many patterns, too many fabrics to choose from.  She was actually experiencing an anxiety attack.  I helped her narrow down her choices, then left it between two outfits and she picked one.  What relief – a pattern had been decided on.  She did so well cutting out the pattern.  I was surprised to see how much her fine motor muscle coordination had improved even from last year.  Then it came to selecting trims.Granted, this grandma has a messy few drawers full of them – she finally asked me to just choose the trims and I did.  I showed her what seams needed to be serged/finished and she did all of that beautifully.   She did a couple of seams, but then her attention span was gone and off she went into her own little world, playing with My Little Ponies.
I finished the dress and she was so pleased but concerned that dolly didn't have "Unmentionables".  There is a link on Pinterest just dedicated to that!!  Here it is in case you have a similar "problem". 

http://www.pinterest.com/james2/18-doll-undergarments/
So, this morning, hubby goes to get a piece of bread from the bread box and guess what he found?
Eliana has a great sense of humor and likes to leave little reminders of herself all over our house.  But this one topped it.  She probably thought that the breadbox was the perfect size for her doll?  Too funny.
I never know what I will find after Eliana has gone home.  All reminders of her sense of humor and need to remind us that she loves us.
Hope you are having a great day and that it includes some stitching today!
---
This past Sunday, our daughter Kristy, whom you may have read about in earlier post, ran her first full marathon.  That may not mean much to many folks but to us, her parents, this is a HUGE accomplishment.  Please allow me to share Kristy's account of her Marathon in her own words.  This is what she posted to her facebook page:
For those of you interested…
My first Marathon recap:
The morning started cold- 29 degrees- but it was clear and warmed up to about 55 by the time I was done. Sunshine- no humidity, an occasional wind on some stretches, but truly, you could not imagine more beautiful weather to run a marathon in. I lined up to start, and my parents made it just before the gun went off- so I was able to hug them on my way out. The first 5 miles were hilly, but I felt strong. I kept focusing on going easy, and not going out too fast. Really concentrated on keeping my effort conservative. Up to mile 12 I felt strong and steady. Met a 77 yr old who was running his 70th marathon- had on an awesome shirt with Philippians 4:13. He cheered me on as he passed me
At mile 11 I saw some Friends (Patti Esterline Larr Aimee Hill Wallis) and mile 12 my parents and oldest son (Monika Tocknell John Tocknell Siddiq Brock) were cheering me on. Took a beautiful 4 mile loop out in the country. I was following, then passed a man running in a superhero cape that said "Marathon Man" and a girl (who I late found out was Tiffany Griffis) I paced myself with them for a while, then passed them. The way back was a straight shot up the bike path. The sun was shining but it was mile 17 and I was getting tired. Then the One Run For Boston passed me, which spurred me on. Ended up behind another elderly gentleman with Isaiah 41:30 on his shirt. More inspiration! By mile 21 I had slowed considerably, having to resort to a run/walk. Then Marathon Man and Tiffany came into my life. Marathon Man is from Australia, he has the world record for most marathons run in a year (he has a Facebook page). He was interviewing and recording first time marathoners- so I told him my story. Because he was recording me and distracting me I ran for 2 miles straight when I was worn and had to take a walk break, I met Tiffany. We started to do a run/walk together. We pushed ourselves to the next tree, the next mile marker, and we made it the last 3 miles together. I swear I couldn't have made it without her. It was her first marathon too. I only wish she didn't live in West Virginia. but we are now Facebook friends at least! along those last 5 difficult miles my sister in law (Holly Muterspaw Tocknell) and niece and nephews met me in 3 separate places, and another friend (Stephanie Jopson) met me about a mile from the finish. Their support motivated and encouraged me to keep pushing.
As we neared the finish line I saw my family- my husband, kids, my parents, my sister in law. My kids ran with me across the finish and Tiffany and I hugged each other. We did it! We finished. I sobbed and was completely overwhelmed. To think where I once was only 3 yrs ago- 300 lbs and unable to run the distance between two mailboxes- to having lost 85 lbs and running 26.2 miles. God took me all the way and I'm so grateful. I can do all things through him- and so can you! Thank you Emily Cook and Jeff Cook for inspiring me 3 yrs ago to start running- I'm so grateful for you! "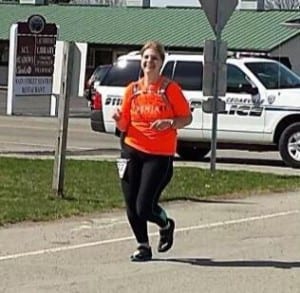 As a mother, I am not only so grateful for what our daughter accomplished with the help of the Lord, but it fills me with  gratitude to see the rippling effects of her actions.  Today, Sid, her autistic oldest son asked his grandfather to go running with him.  They decided that they should start out with a brisk walk of 4 miles – but 4 miles they walked!  And after the walk he said he wanted to keep doing that.  So, tomorrow at 3 pm Grandpa and Sid will be walking again.  Thank you, Kristy, for your determination, your faith, and the good example you have been to your kids.
Amazing, the rippling effects our actions have on those around us, isn't it?
---
Have you ever wondered what goes into making an in the hoop design?  I can't talk for other digitizers, but I can tell you that it's a lengthy process, even if the project looks easy to the purchaser.  See this little tea pocket?  Cute, isn't it?
Looks simple enough, doesn't it?  Well, first of all, you have to find the right graphics.  I was very fortunate – Laurie of doodlepantry.com had just the perfect ones.  Actually, her graphics were the starting point for these little pockets.  I found though that they did not work very well in their entirety, the way they were drawn.  After a first stitchout, I had to change how much of her graphics I used.  I loved Laurie's scalloped edge in the back, but… alas it did not look good once stitched.  What to do?  How was I going to close this great little pocket?  Velcro?  No, that would involve too many extra steps;  snaps?  Well, not every sewer has a way of making them easily and I did not want folks to have to go and buy one just for this little pocket.  So, here came the idea of the strap in the back.  I think it turned out nicely, don't you?   After 5 stitchouts, I finally had what you see in the photos above.
Here is a progression photo of three of the 5 stitchouts: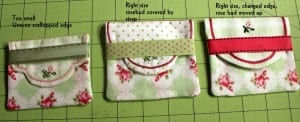 Now that I am happy with the outcome – off it goes to at least 3, sometimes as many as 6 testers.  When they all can produce a satisfactory result – as shown by photos of their stitchouts – then we finally put up the design for sale.  So, you can be assured that when we put a design up for sale – it's been tested multiple times, often by multiple people on different machines.
We want you to know that you can buy from us with confidence!    Oh, the little tea pocket is part of a set I am working on:  Tea for You.  It will have a set of new tea mug rugs and a tea mug tote (mostly done in the hoop).  Hoping this will make a great gift for Moms (Mums)! :)  Stay tuned for more.
Happy Stitching!
---
As I was cutting my grass this morning, I noticed how the sunlight highlighted a little hidden corner in my garden.
I thought it was so precious and wanted to share it with you.
---
Have you been wondering what I do when I am not digitizing or watching grandchildren?  Well, another favorite pas ttime of mine is flower gardening.  Although I must admit that with advancing age, it seems to become more difficult to manage all those plants and – WEEDS!!  I am finding that Preen has been a great help in the weed department, but there are still quite a few areas that have not been willing to submit to weed control! :)  With the unusual amount of rain fall this year, it seems that both flowers and weeds have benefited!!  I also tried my hand at some great side planters/containers from https://www.kinsmangarden.com/index.php and I am so very pleased with them.  Usually, I have found that these cocomat/moss planters dry out so fast.  But the ones from Kinsman's have just been wonderful.  I water about every other day, sometimes can even wait til three days are up.  And they have just been a joy to watch grow.  Saarah (one of my granddaughters) and I planted those together and she, too, enjoys looking at how well her pots and plants are doing.  I highly recommend these.
Well, I thought I would share some photos and hope you enjoy a stroll through my garden.  It is in my garden where I do a lot of praying and praising God for His many blessings and where I find new inspiration for my designs.
My husband found this garden saying by an unknown author:
When the world wearies,
And the world ceases to satisfy,
There is always
THE GARDEN
Thanks for visiting my blog today.
God bless.  Monika
---
I had intended to write this entry around Mother's Day but then life happened and got in the way of my good intentions.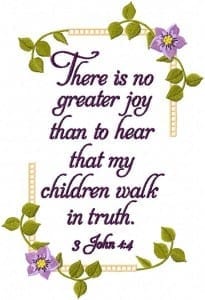 As I am working on a design with the scripture "There is no greater joy than to hear that your children walk in the truth" (3 John1:4) my heart is filled with thankfulness that this is true of my two children today.   It wasn't always that way.   There were years of deep pain and sorrow over the path our daughter had chosen.  But those days, thank God, are in the past and it is with great thankfulness today that I would like to share with you Kristy's story in her own words.
I am posting this story as an encouragement to those who might have children who have chosen a path that seems self-destructive.  I want to encourage you to give that child to the Lord;  He does care and He does hear your prayers.
May Kristy's story be an encouragement to you.
Kristy Brock testimony from Jeffrey D. Brock on Vimeo.
---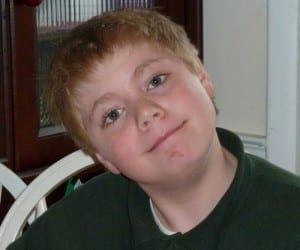 I look at my autistic grandson – he is so ruggedly handsome – his hair tossled, a piece of flowery silk fabric wrapped around his neck, his beautiful big blue eyes with long eye lashes looking sad and semi pleading.   On the one hand he hates parties,  big gatherings of people, loud places;  on the other hand, he longs to have connection with others, feel loved and appreciated – yet he doesn't know how  to relate to others, how to enter into their world.  It brings tears and pain not only to him but to those who do love him – his family.    He asks often "Why did God make me like this?"  And I don't know the answer.   Awkward as he appears socially, he has a heart of gold.  When his grandfather suddenly had to be taken to the hospital with a very rapid heart beat, it was Sid who went to his room to pray for Grandpa, it was Sid who lovingly offered to help Grandpa the next day.  He is full of extremes:  so beautiful, yet so uncaring about his appearance;  so verbal, yet so unable to establish rapport with others;  so intelligent, yet so unpolished in his behaviors.  He is loved deeply by his family and I pray that some day God will show him a very special place in life  where he can shine and rejoice in the fellowship he can have with others and God.
A customer recently sent me a slide show about an Autism Cruise that he organizes.  He sent it to me because the video shows the use of one of our Autism designs.  But I want to show it to you because I think it is very well done and depicts the great joy that so many of these children and adults seemed to have experienced on this cruise.  Thank you, Alan Fowler, for giving me permission to place this on my blog and for organizing joy and happiness for individuals with autism.
---